www.lifepage.in/page/abhinavsingh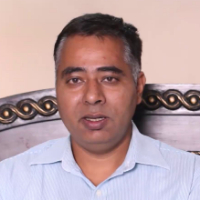 [ Owner | Vedic Farms ]
B Tech (Electronics & Communication) – AKGEC, Ghaziabad
PGDBM (Marketing & Operations) – NIILM CMS, Delhi

Abhinav Singh did B Tech in EC from AKGEC, Ghaziabad and PGDBM in Marketing & Operations from NIILM – CMS, Delhi. After that, he worked with Havells India Ltd for 2 years and then with Eureka Forbes for 9 years. In 2014, he started his own business of Commercial Dairy Farming with the name of Vedic Farms.