www.lifepage.in/page/divyaprasad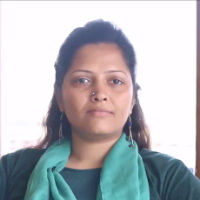 [ Sacred Geometric Artist, Travel Blogger | Iktomi, Independent Practice ]
Bachelors of Mass Media (Advertising) SIES College, Mumbai University

Divya Prasad is a writer, travel writer, sacred geometric artist and energy healer from Bombay, living her little dream in the Himalayas. As a mass media student, she has worked as a creative writer and copywriter with renowned advertising and digital agencies for about nine years. She pursued travel writing as a passion through her blog obsessivecompulsivetraveller.com. Over years, she was inclined to energy healing, which opened many new doors for her. Along with her travel writing, she trained in alternative energy healing and learnt the art of weaving mandalas from a guru. She further began her own sacred geometric healing arts venture by the name Iktomi, wherein one can find energized crystal dream catchers, mandalas, energy paintings and mandala jewellery.