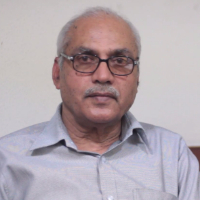 [ Dean & Professor | DIT University ]
B Sc – Kanpur University
M Sc (Physics) – IIT Roorkee
Ph D (Molecular Electronics) – IIT Roorkee
C Phys (Chartered Physicist) – Institute of Physics, London


Dr Shri Krishna Gupta did B Sc from K K Degree College (Kanpur University) in 1969. After that he did M Sc and Ph D in molecular electronics from IIT Roorkee. He has vast experience in research, the main work during his stay at Roorkee has been to assemble and monitor electrical and dielectric properties of the Organo-metallic compounds and At Institute of Molecular and Biomolecular Electronics, University of Wales at Bangor, U K Here he Joined Prof D M Taylors Research Group and worked on Charge transfer complexes like Ni Dmit, Pt Dmit etc. and At Electronics Group ICI Labs Runcorn, Chesire, U K he joined Dr R A Hann's Electronics Group at ICI UK in November 1984. Here he started working on more sophisticated materials like Phthalocyanines which are semiconductors in nature. Mainly two types of phthalocyanines were studied viz. Cu-tetra-tert-butyle-Ph, and Oxinucleu s-Fe-tetra-ter-butyle-Ph Structural and electrical studies were performed on both these compounds. In the later part of his stay he started studying the interesting phenomenon of Second Harmonic Generation in the Azo dyes. Beautiful results on frequency doubling were obtained and the results were published in the Europhysics Letters.

He has published many research papers and his research interest mainly include Nano Technology, Thin Films, Langmuir-Blodgett films, Experimental Solid State Physics, Temperature dependent studies, Dielectric studies (Static and Dynamic), Structural behavior, Nonlinear Properties (Second Harmonic Generation and Electro Optic effects), Chemisorbed films.

He has worked as a Senior Research Scientist at ICI Labs, Runcorn, England for almost 2 years. After that, he joined University of Wales, Bangor United Kingdom as Research Officer for 3 years. Then he did CPhys (Chartered Physicist) (designated) from Institute of Physics (IOP) London. He has also worked as an Associate Professor in the department of physics at H N B Garhwal University. He has severed at J B Institute of Technology, TULAs Institute and Doon Institute of Engineering Technology, Rishikesh as Director. He has been working as Professor of Physics and Dean Research and consultancy at DIT University since 2013. He has total 40 years of experience at Post Graduate and Graduate level including 8 years at the Engineering Institutions.