www.lifepage.in/page/mondreetasengupta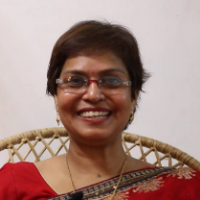 [ Founder & Director | Adventoure ]
MSC Psychology – Chennai University
MA Counseling & Psychotherapy – Christian Medical College, Vellore
Diploma (Training & Development) – Delhi University

Mondreeta Sengupta is attached to the Ministry of Tourism since 2006 and is a Cultural and Spiritual Ambassador to foreign delegates and the founder of Adventoure. An ex-GM (HR) of Reliance Industries Ltd, a faculty with training wing of American Consulate and with Airlines & Aviation Industry, she has been nurturing development and growth of Human Relations and Life Management Skills for past two decades. She is a qualified Accountant, Psychologist, Psychotherapist and Trainer. She has authored a few National Award winning travelogues to share her travelling experiences. She is a Nature Photographer and a freelance Journalist. She is a recognized sports person and has excelled in Swimming and Mountaineering. She is a versatile and an innovative International speaker, trainer and has been training at different Educational Institutions including IITTM. She is the Trustee of World Pranic Healing & Training Centre, Dehradun and has been conducting health and wellness workshops since 1996.