www.lifepage.in/page/ranjonabanerji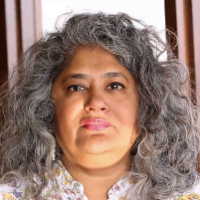 [ Journalist | Independent Practice ]
BA (Hons) Engish Literature – Presidency College, Calcutta

Ranjora Banerji started working as a copywriter in an ad agency in 1984. This had been her long-time dream but soon became a farce as she realized that this was not the job for her. After this she joined her current profession, Journalism. She started at the bottom of the ladder as a sub-editor, which I think is the best place to start. Over the years, she has worked as a correspondent, ran departments and newspapers. In 2010, she gave up the newsroom to become a freelance columnist and commentator. The topic she writes on include politics, media and social trends for a number of newspapers and websites. She has worked mainly in Mumbai, a bit in Ahmedabad and now lives in Dehradun.