Find your ideal Career in 3 Steps
Learn ❱ Assess ❱ Evaluate
---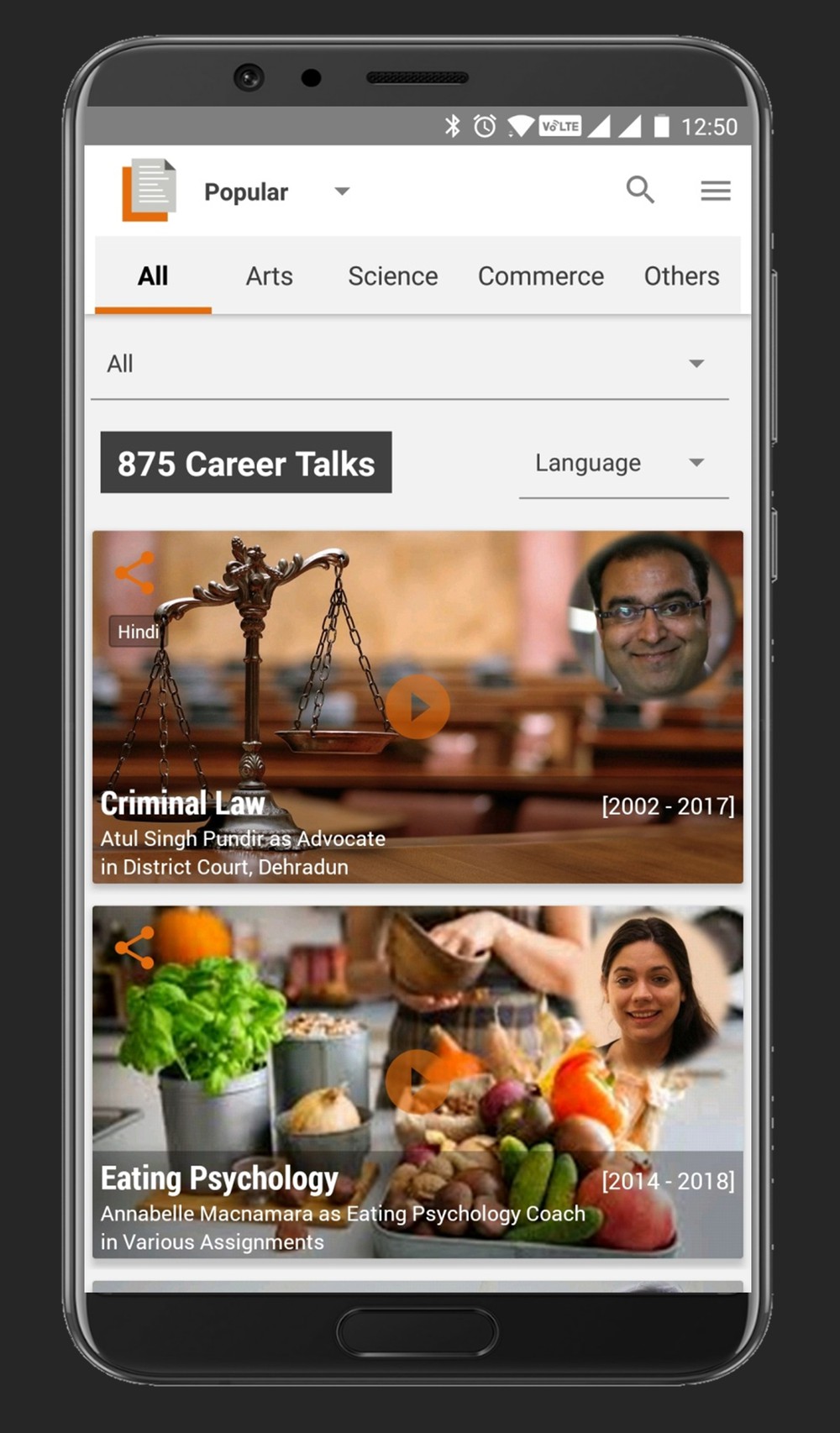 Conventional Career guidance works on a Counseling model. Wherein, a Counselor or a panel provides information about various Careers. Since the information is secondary, this model is obsolete in today's Google driven world.
Using LifePage, you learn about Law from a real Lawyer. This is primary information coming from the horse's mouth. Can anyone describe Policing better than a real Police officer? What's more? We have not one but several Policemen on LifePage.
---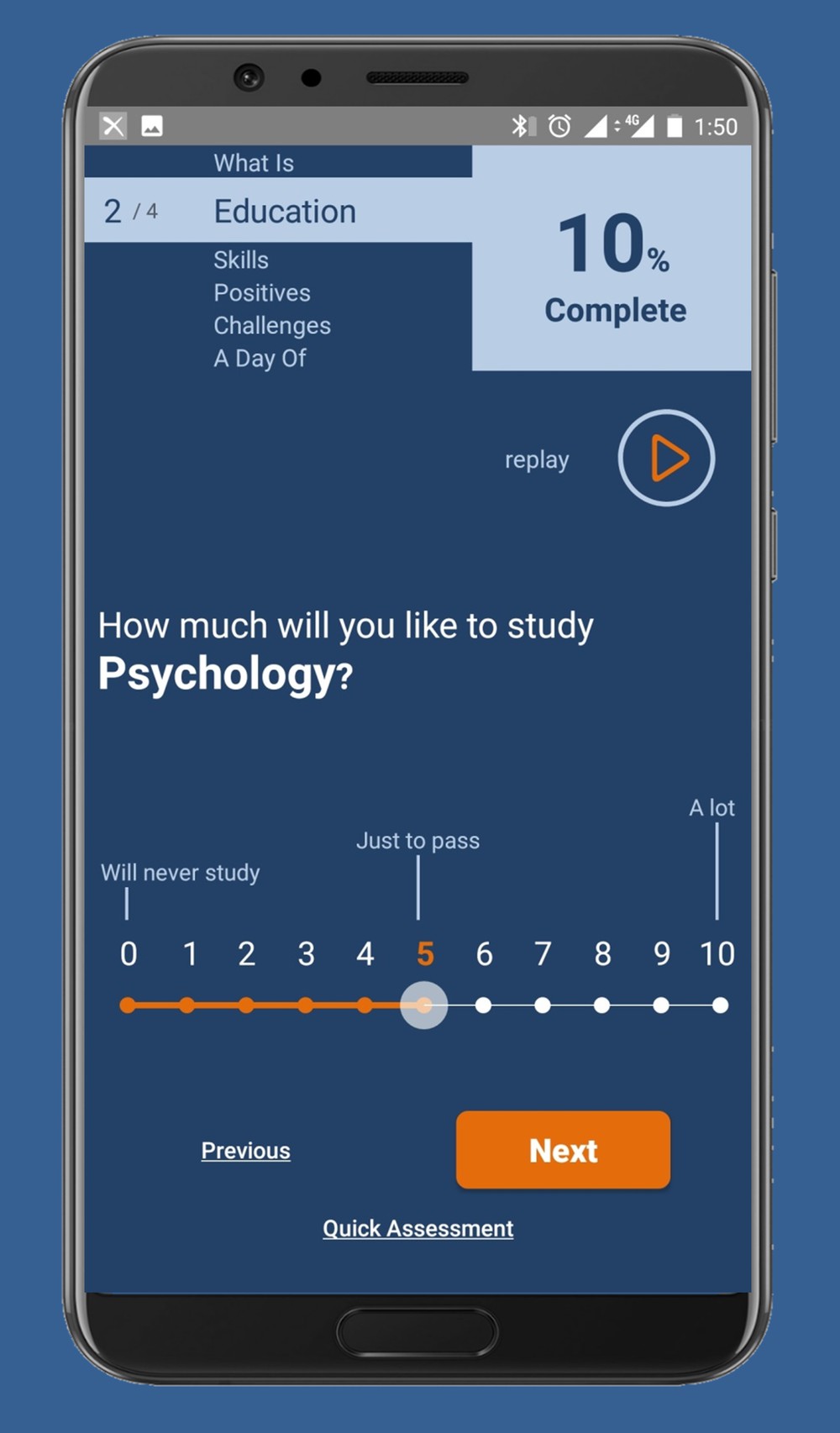 Counselors and Psychometric tests look within you to find your interests. But, how can they discover it if you have not even been exposed to what will be best for you?
Using LifePage, you tell us how much you like what you have understood about a Career. Our algorithm calculates a Dream Index which indicates your chance of success in the Career.
---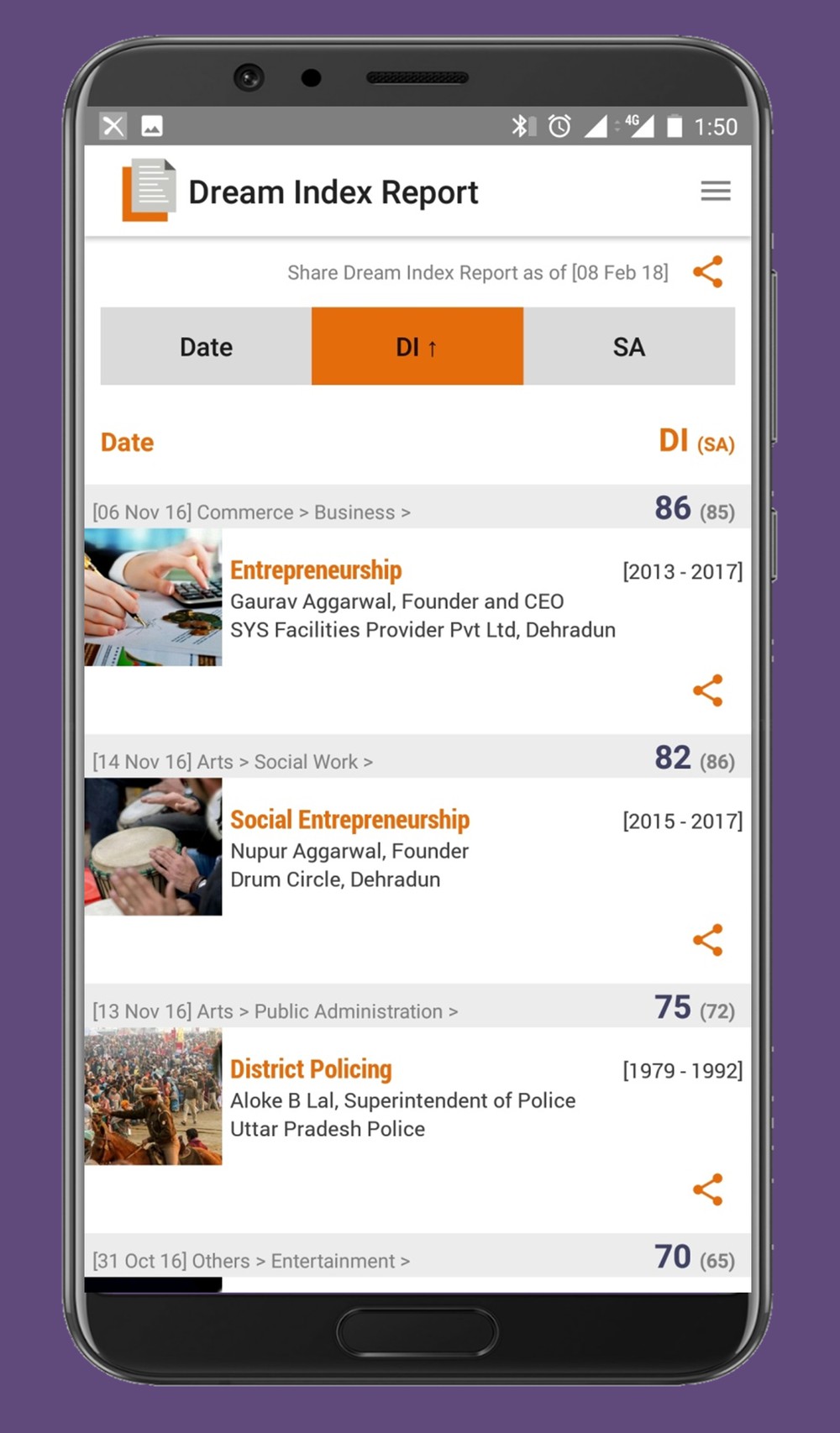 People around you, wish you well and if you do not take control of your own life then they will end up taking Career decisions for you.
Using LifePage, you can take control. Just take a good look at your Dream Index Report and you will yourself know what is good for you.
---
Download Links
iOS Download Link:
https://apps.apple.com/us/app/lifepage-career-talks/id1422221590
Android Download Link:
https://play.google.com/store/apps/details?id=com.lifepage.jfh
Country specific Links
https://play.google.com/store/apps/details?id=com.lifepage.jfh&hl=af
https://play.google.com/store/apps/details?id=com.lifepage.jfh&hl=am
https://play.google.com/store/apps/details?id=com.lifepage.jfh&hl=bg
https://play.google.com/store/apps/details?id=com.lifepage.jfh&hl=ca
https://play.google.com/store/apps/details?id=com.lifepage.jfh&hl=zh-HK
https://play.google.com/store/apps/details?id=com.lifepage.jfh&hl=zh-CN
https://play.google.com/store/apps/details?id=com.lifepage.jfh&hl=zh-TW
https://play.google.com/store/apps/details?id=com.lifepage.jfh&hl=hr
https://play.google.com/store/apps/details?id=com.lifepage.jfh&hl=cs
https://play.google.com/store/apps/details?id=com.lifepage.jfh&hl=da
https://play.google.com/store/apps/details?id=com.lifepage.jfh&hl=nl
https://play.google.com/store/apps/details?id=com.lifepage.jfh&hl=en-GB
https://play.google.com/store/apps/details?id=com.lifepage.jfh&hl=en-US
https://play.google.com/store/apps/details?id=com.lifepage.jfh&hl=et
https://play.google.com/store/apps/details?id=com.lifepage.jfh&hl=fil
https://play.google.com/store/apps/details?id=com.lifepage.jfh&hl=fi
https://play.google.com/store/apps/details?id=com.lifepage.jfh&hl=fr-CA
https://play.google.com/store/apps/details?id=com.lifepage.jfh&hl=fr-FR
https://play.google.com/store/apps/details?id=com.lifepage.jfh&hl=de
https://play.google.com/store/apps/details?id=com.lifepage.jfh&hl=el
https://play.google.com/store/apps/details?id=com.lifepage.jfh&hl=he
https://play.google.com/store/apps/details?id=com.lifepage.jfh&hl=hi
https://play.google.com/store/apps/details?id=com.lifepage.jfh&hl=hu
https://play.google.com/store/apps/details?id=com.lifepage.jfh&hl=is
https://play.google.com/store/apps/details?id=com.lifepage.jfh&hl=id / in
https://play.google.com/store/apps/details?id=com.lifepage.jfh&hl=it
https://play.google.com/store/apps/details?id=com.lifepage.jfh&hl=ja
https://play.google.com/store/apps/details?id=com.lifepage.jfh&hl=ko
https://play.google.com/store/apps/details?id=com.lifepage.jfh&hl=lv
https://play.google.com/store/apps/details?id=com.lifepage.jfh&hl=lt
https://play.google.com/store/apps/details?id=com.lifepage.jfh&hl=ms
https://play.google.com/store/apps/details?id=com.lifepage.jfh&hl=no
https://play.google.com/store/apps/details?id=com.lifepage.jfh&hl=pl
https://play.google.com/store/apps/details?id=com.lifepage.jfh&hl=pt-BR
https://play.google.com/store/apps/details?id=com.lifepage.jfh&hl=pt-PT
https://play.google.com/store/apps/details?id=com.lifepage.jfh&hl=ro
https://play.google.com/store/apps/details?id=com.lifepage.jfh&hl=ru
https://play.google.com/store/apps/details?id=com.lifepage.jfh&hl=sr
https://play.google.com/store/apps/details?id=com.lifepage.jfh&hl=sk
https://play.google.com/store/apps/details?id=com.lifepage.jfh&hl=sl
https://play.google.com/store/apps/details?id=com.lifepage.jfh&hl=es-419
https://play.google.com/store/apps/details?id=com.lifepage.jfh&hl=es-ES
https://play.google.com/store/apps/details?id=com.lifepage.jfh&hl=sw
https://play.google.com/store/apps/details?id=com.lifepage.jfh&hl=sv
https://play.google.com/store/apps/details?id=com.lifepage.jfh&hl=th
https://play.google.com/store/apps/details?id=com.lifepage.jfh&hl=tr
https://play.google.com/store/apps/details?id=com.lifepage.jfh&hl=uk
https://play.google.com/store/apps/details?id=com.lifepage.jfh&hl=vi
https://play.google.com/store/apps/details?id=com.lifepage.jfh&hl=zu
---
Contact Us
Talk to us on +919719799992
Or, Email us on team@lifepage.in
Or, use