www.lifepage.in/page/zarinabhatty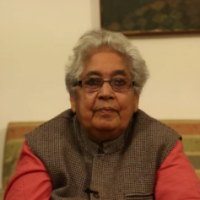 [ President | IAWS ]
Graduation – London
Post Graduation – London

Zarina Bhatty did her higher studies in Sociology from London, after that she joined Jesus and Mary College, Delhi as a Sociology Professor where she taught for 10 years. She worked as a Gender Specialist in various organizations like UN, US Aids & IAWS. She was one of the Founding members of Indian Association for Women. She has also written a book based on her life story called Purdah to Piccadilly.